Trademark Indonesia , 12 Steps of Trademark Registration in Indonesia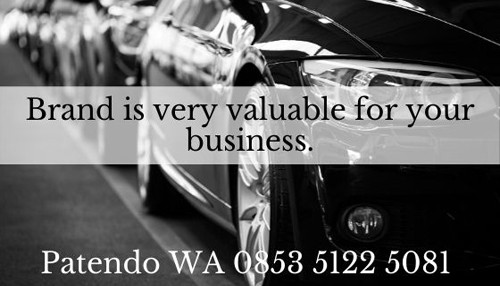 Trademark Indonesia – 12 Steps of Trademark Registration in Indonesia. We are certified consultant of IPR will help you to register and renew your trademark in Indonesia.
You must be curious with Indonesia trademark registration procedure through Patendo. Here are easy ways to get your brand rights.
1. Please email to cs@patendo.com
a. Brand name:
b. Type of goods / services / businesses:
c. Registrant name:
d. Telephone number of registrant:
2. You will get email of our bank account number in 1 to 3 hours in business hours.
Our business hours are Monday-Saturday on 8.00 am to 4.30 pm and closed on Sunday and national holiday.
3. The cost of brand registration including brand checking is only USD 400 per brand per class per logo. After transfer USD 400, please send the transfer proof by email immediately. Brand checking done in 2 business days. The application process for trademark registration will be completed in 7 working days after we have received the signed documents.
You can check the class of goods / services on CLASS & GOODS page or please email to cs@patendo.com if you do not know the class of your goods / services. We will help you to find out what type of goods / services you are in.
For the type of goods / services that are in 2 classes, for example in class 30 and in class 43, the cost of registering a trademark is multiplied by 2. For registration of 1 trademark with 2 different logos, the trademark registration fee is multiplied by 2.
4. Please send the transfer proof of brand registration fee along with the registration requirements: registrant passport/passport of company director and logo of trademark in the form of JPG (minimum 300 kb) by email.
5. Fill the required data we send by email correctly for making documents.
6. Download and print the documents we send based on your data before.
7. Sign those documents and send back to us as the email instruction.
8. Brand registration is done for about 7 days after we received your signed documents.
9. We will send the proof of brand registration application by email and your trademark is able to run without waiting for certificate.
10. Brand certificate will be issued by Directorate General of IPR for about 2,5 years after a thorough examination.
Process of publishing brand certificate cannot be accelerated. It is 100% authority of the Director General of Intellectual Property Right of Indonesia.
Consultant does not have authority to approve or reject the brand registration and also publish brand certificate. As a consultant, our primary duty is only checking and registering your brand to trademark office of Indonesia.
If you have any questions, please email or chat us directly on business days.
Patendo is Intellectual property rights consultant in Indonesia
Email: cs@patendo.com
Phone/WA: +62 21 2237 9620/+62 853 5122 5081
Address: Satrio Tower 16th Floor, Kuningan, Setiabudi, South of Jakarta, Indonesia, 12780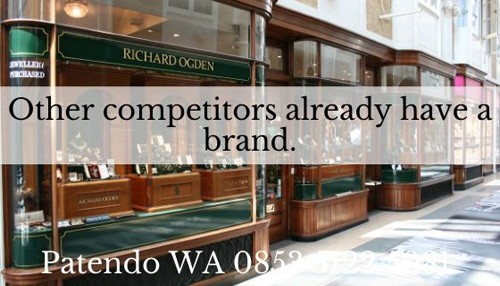 Trademark Indonesia law of 2016
The function of trademark are:
1. an identification to distinguish the results of production produced by the production of others;
2. a promotion toll to promote the production results by only mentioning the trademark;
3. a guarantee of product quality;
4. an indicator of goods/services origin.
Trademark as a type of intellectual property should be protected as other intellectual property. The history will be shown in this part by discussing the trademark law. Indonesia trademark developments can not be separated from its law and regulations.
Protection toward trademark in Indonesia based on constitution 2016 on Marks and Geographical Indication has been enacted on 25 November 2016.
Indonesia trademark definition is a sign displayed in the form of a picture, name, number, color arrangement in the form of two or three dimensions to distinguish goods or services produced by persons or community in the commerce.
Before implemented the law of 2016, Indonesia trademark regulations used the law of 2001. Both of them concern to protect trademark through the articles and paragraph.
Nevertheless, the amendments need to be done because there are some weaknesses in Indonesia trademark rules before. The analysis related to the differences between the law of 2001 and 2016 can be seen from flowchart below.
1. Trademark protection
How does Indonesia trademark law regulate the brand? Trademark law of 2001 only protect coventional brands including name, words, picture, figure, color composition and combination of them.
However, trademark law of 2016 also can protect non conventional marks such as hologram brands, 3D and sound trademark.
2. Trademark registration process
Procedure to register the marks in law of 2001 are formality examination, substantive examination, publication and grant. In the law of 2016, the process will be formality check, publication, substantive exam, and grant.
3. Publication and substantive examinations period
Substantive checks in the law of 2001 need at the latest 9 months, while in the law of 2016 need at the latest 5 months. Furthermore, the publication period is three months and for the law of 2016 is two months.
4. Trademark registration duration
Statement in the law of 2001, a brand needs 14 months from filling until registering, but in the new law it needs only 8 months and 15 days for filling until registering.
5. Trademark requirement documents
In the law of 2001, trademark application needs priority document, payment received and power of attorney. In the law of 2016, Indonesia trademark use requirements: model of marks, payment received and application form.
6. Deletion of trademark
Indonesia trademark cancellation is done by commercial court in the law of 2001, while in the new law it is done by administrative court.
7. Trademark rejection
In the law of 2001, the brand can be rejected if it has similar with essential part of a registered mark. However, the mark can be rejected if it is confusingly similar to the essential part of the mark disclosure before.
8. Renewal grace period
The law of 2001 said that the renewal period of trademark is 12 months before expired date. In the revision law, a mark can be renewed since 6 months before and 6 months after expired date.
9. Trademark deletion authorization
The Directorate General as a party who act to delete a trademark from gazette based on the old law, but in the new law, the holder of the authorization is Ministry of Law.
10. Infringement fine
Indonesia trademark infringement fine is maximum one billion rupiah based on the law of 2011.
However in the new law, trademark infringement fine is maximum two billion rupiah and maximum five billion rupiah if the infringement cases related to health and environment product causing human death.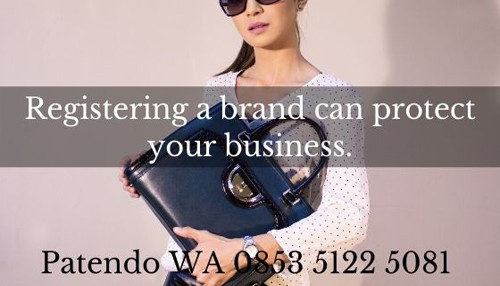 Indonesia trademark database classification
Law No. 15 of 2001 specificalfly addressed in Article 8, said that a trademark application should specify the types of goods or services. Unfortunately, trademark registration Indonesia system still refers to 42 class details regulated by Government Regulation No. 24 of 1993.
It is a serious problem since it comes to determine the most appropriate classification for goods or service in filing the trademark.
Solutions for this problem is Indonesia has adopted the 10th edition of nice classification effective 2 January 2012. The new edition makes changes to the classification of goods across several classes.
Because Indonesia trademark nice classification has changed, there are some rules related to trademark registration. For applications filed prior to 2 January 2012, 9th edition of nice classification would continue to be followed.
For multi class applications where both old and new trademark classes have been applied for, the Directorate General will transfer an item of specification from the previous class to the new class.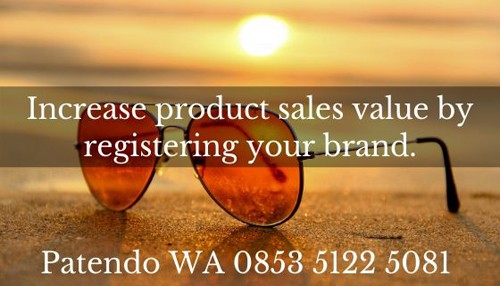 How to register trademark in Indonesia
Indonesia trademark essay shows that brand may be gained by applying trademark registration. These are the process to register trademark you must understand.
1. Submit an application to the Directorate General of IPR and complete the requirement asked.
2. After the application submitted, the Directorate General will conduct checks on trademark requirements using exam checklist.
3. Within maximum 30 days since approval date of completing requirements, they will conduct a substantive checking no longer from nine months.
4. Within maximum 30 days since approval date of substantive checking notification, the applicant/consultant are able to give any responses by mentioning the reasons. If there is no letter of protest, the Directorate General will set a judgement about the rejection of application.
5. If there is any action response forms from the applicant/consultant and examiner reported that the response is acceptable, the application will be announced in trademark official news within a maximum 10 days since the application approved.
If the examiner reports conversely, the application will be rejected.
6. For approved trademark application number, the Directorate General will issue the certificate to applicants/consultant no longer from 30 days since the date of announcement period finished.
7. The applicant will be able to choose arbritation by submitting the application to appeal commission if trademark application is rejected by the Directorate General because of substantive reasons.
1. Requirements of trademark registration
Submit registration application in two copies typed in indonesian language using provided form template containing:
1. Full name, nationality, and address of applicant.
2. Full name and address of consultant, if it is applied by consultant.
3. Color of trademark, if the applied trademark using color elements.
4. Country name and request date of trademark registration if using priority right.
Trademark application letter attached by:
1. Copy of identity card, while for foreigner must has an address in Indonesia or consultant in Indonesia.
2. Copy of a legal entity establishment deed legalized by notary public firm when is applied by the name of factory.
3. Copy of collective ownership rule if the application submitted for more than one person (collective trademark or groups).
4. Power of attorney if it is applied by consultant.
5. Payment evidence of application fee.
6. 1 logo
7. Declaration of trademark ownership.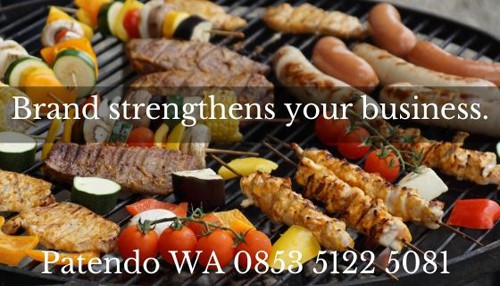 2. Trademark which cannot be registered in Indonesia
In some Indonesia trademark paper has been said the categories for unable registered trademark.
1. It is contrary to the state ideology, legislation, morality, religion, decency, jurisprudence and public order.
2. Similar to, related to, or mention the applied goods/services.
The meaning is the trademark related to or mention the applied goods/services. For example: you will register a trademark named "coffee" for coffee as the goods you will register.
3. Containing elements that may mislead people about the origin, value, quality, type, and purpose of applied goods/services or plant variety name which protected for similar goods/services.
For example a trademark named "Kecap No.1" can not be registered because it is a misleading trademark related to its quality.
4. Containing information or keyword that are not appropriate with the quality or benefit of the goods/services.
It means that the owner mentions information that are not appropriate with the product quality. For example: this medicine is able to cure all the diseases.
5. It has no distinguishable sign.
A trademark has no distinctiveness sign when it is in the form of plain and simple codes such as a line or a symbol yet a complicated sign is hard to distinguish because of its unclearness.
6. It is a general name or symbol of public property.
For example, a trademark named "restaurant" and "coffee shop". For instance, a symbol of public property such as "skull" for dangerous sign and a symbol of spoon and forks for a restaurant can not be registered.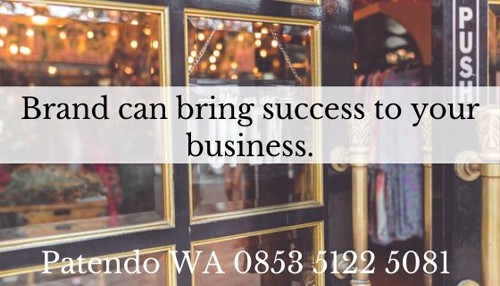 3. Rejected trademark
There is no guarantee for trademark approval. Some of Indonesia trademark journal has explained this issues. Application of trademark registration may be rejected for some reasons:
1. The application will be rejected if the trademark has degree of similarity with a whole or principal element with registered Geographical Indication, registered trademark and well known trademark.
Well known trademark owned by others for dissimilar type of goods/services which fulfill certain requirement also may be rejected.
Definition of familiar trademark is a trademark that expand over the regional and international boundary and proved by the evidence of trademark registration in some countries.
In some countries, the familiar trademark owner must has a trademark in his country and at least has 4 certificates in other country.
If it is not enough, commercial court will be able to command the independent institution to survey for drawing conclusion whether it is familiar or not as a basic reason of rejection.
2. The application will be rejected if the trademark is:
1. Similar to a name or acronym of familiar people name, photo, or legal entity owned by others, except by written agreement of the owner.
2. An imitation or similar to a name or acronym, flag, symbol of a country, or national and international institutions, except by written agreement of the authorities.
3. An imitation or similar to a seal or official stamp of national institute except there is a letter of consent by the authorities.
4. The application will be rejected if applied by applicant with bad intentions.
For example, the trademark application in the form of writing, painting, or color composition is similar in principle or global to the other trademark that has been known by public for many years.
From this example, the applicant has no goodwill in registering trademark. Therefore, we have to look up whether there is bad intention in registering trademark or not.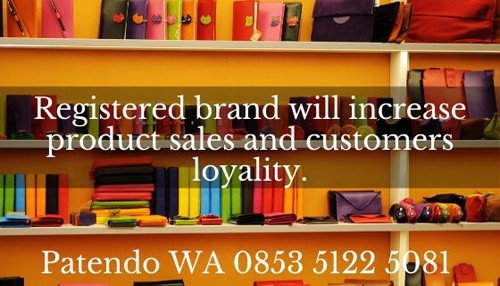 Indonesia trademark register fees
As we know, to get a right of a trademark you should register the trademark to the Directorate General of IPR. You may ask our help to register your brands.  Here is the cost of trademark registration.
Brand checking as a device to minimalize the rejection by opposition when you are registering the brand.
By registering through Patendo, you do not need to login to government site and go to the main page to download any forms.
You only need to mention your brand, type of goods or services, your name and contact number. For example you want to register vendors of food, store for retail, medical device, vehicle or even pesticide.
In addition, the cost of registering a trademark brand checking is USD 400, if chosen 2 classes then the fee is 2 x USD 400= USD 800.
After 2 working weeks you will get a trademark application number and your business are able to run without waiting for certificate containing serial number of registration.
How long renewal grace period in trademark registration
Indonesia trademark certificate will be issued after the Directorate General of IPR approve the brand. Its validity is ten years and able to renewed. Declaration of use can be seen from the certificate.
If the brand has expired more than renewal grace period, you will lose your brand because it is able to be registered by others.
Therefore, you must take notes in your handbook when the brand renewal grace period after gained the certificate. A trademark can be renewed at least near six months before expired up to six months after expiry date.
More than the renewal grace period, your brand will be deleted from mark database. Call us to help you renewing you brand before expired.
Furthermore, a risk of non use cancellation action will be happened if you are denial with this topic.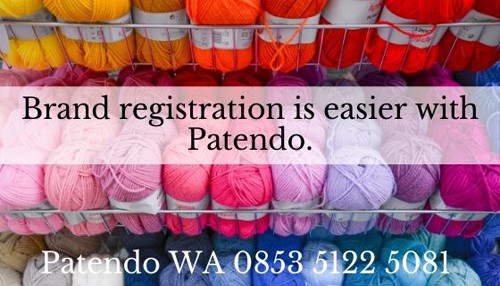 Intellectual property office in Indonesia
Indonesia has a foundation that regulate intellectual property called Directorate General of Intellectual Property Right under the Ministry of Law and Human Rights. The office of intellectual property Indonesia located in Jakarta.
Indonesia trademark manual registration may be done by applying non electronic application to the office.
However, for those who have limited time, Patendo can help you because the queue in registering a mark at the Director General counter is usually full.
Registering brand through Patendo Office
Then, what are the benefits of registering through Patendo consultant? Here are the advantages of using the services of Patendo.
1. A complete Indonesia trademark description and the required documents.
2. Consultants usually understand the best approach to submit an application.
3. The administrative process (for companies with high employment turn over) is easier because even if employees change, new employees can easily request updates from consultants.
4. Cost efficiency because the applicant simply asks the consultant directly to update the trademark status without any software.
5. All matters related to the application can be instructed directly to the consultant, and the consultant who will carry it out. Making a letter, delivering it to the IPR office, everything is done by Patendo.
6. Other additional services that may be provided by the consultant and are indeed needed by the applicant.
Patendo is ready to help you to register your brand including home industry and corporate. Immediately visit our blog and website before it's too late.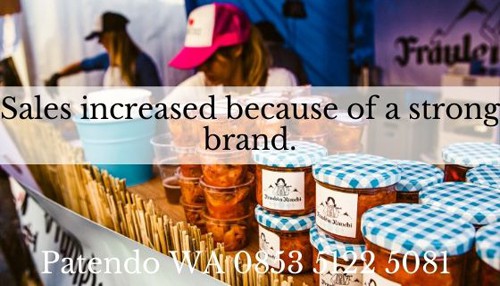 International trademark registration in Indonesia
According to the law, application of trademark registration that one of the applicants or more are foreigner and foreign legal entities domiciled abroad must be submitted by consultant.
So, how to register a trademark in Indonesia? Steps you have to do first is find a consultant of IPR not a lawyer. Consultant of intellectual property rights is permanent domiciled in the territory of the Union Republic of Indonesia.
You may call Patendo on +62853 5122 5081 to help you in registering online your trademark in Indonesia. We are handling international trademark registration worldwide.
Here are the requirements list you need to prepare:
1. Trademark labels, examples of marks or etiquette attached to trademark registration applications.
2. Declaration of trademark ownership.
3. Power of attorney.
4. Proof of priority date, if using priority rights and translation in Indonesian.
An application using priority rights must be submitted no later than 6 months from the approval date of trademark registration which approved first in another federal or state.
It is also a member of the Paris Convention on the Protection of Industrial Property or members of the World Trade Organization Treaty.
An application that uses priority rights must be accompanied by approval proof of trademark application which first gives rise to the priority rights. You need to translate the evidence into Indonesian.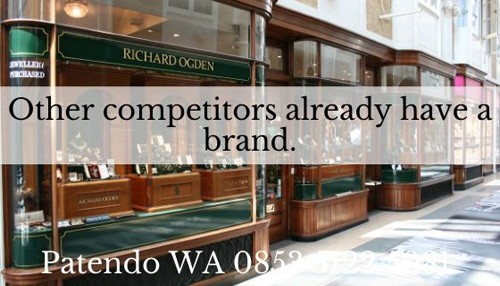 Advantages of registered trademark
Indonesia uses first to file system in brand registration. It will be fair if the first applicant will get the right of the brand based on jurisdiction. Therefore, you must register your brand now before others.
Due to the significant function of trademark for a business, each trademark must be registered. Let's see what you will get from trademark registration below:
1. A registered trademark can be used as basics evidence that the owner has right toward the trademark.
2. It can be used as a tool to reject the trademark with the principal or whole similarity that applied by others for the similar goods/services.
3. Trademark registration is able to prevent others attack that use the same trademark in principal or whole similarity in trading for similar goods/services.
Principal similarity means the similarity caused by dominant element between a trademark and others.
It creates opinion that there are similarity of form, similarity of placement, similarity of writing or combination each elements, similarity of pronunciations in the trademark.
Whole similarity means that there are similarity of from, similarity of composition, similarity of combination, and similarity of elements.
4. The registered trademark gain a legal protection for 10 years since approval date of trademark application and it can be extended before expired date.
5. From economic perspective, of course a registered brand will bring you to the highest level of glory because it is beneficial ownership, especially when you are licensing the brand to others.
The importance of registering a trademark needs to be taken into consideration before cast the product to market. Do not regret later on when you have suffered losses due to abandonment toward trademark registration.
You do not need to worry about research guide in checking brand, hand it over to Patendo. We will give you a brief summary of brand checking result based on appear trademark ranking.
Please contact our help desk from your computer or smartphone without any need to get out from house and leave your jobs to register your trademark. We are closed on holidays but you are able to reach us on work hours.
Great domain names, hashtag, and visual documentary in your social media timeline will be useless if you do not register your brand soon. Indonesia trademark overview above might be useful for you before register a brand.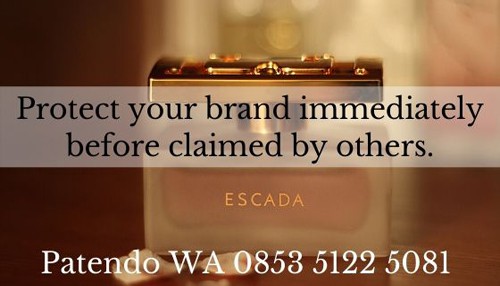 Trademark search Indonesia through Patendo
Before registering a brand, we advice to do trademark search in order to minimize rejection risk. Trademark search also called brand checking will allow you to know list of registered brand with similar pronunciation or spelling to your brand.
Patendo will help you to do brand checking until your brand is able to be registered. Trademark search is done by checking your brand based on type of goods or services.
Each good or service has been classified or grouped into different classes as the example below:
Class 1: fertilizers, chemicals for preserving food ingredients.
Class 3: cosmetics, soap, fragrances, hair oil.
Class 5: food for baby, supplements, vitamins, herbs, disinfectants.
Class 9: software, electronic goods.
Class 20: furniture, home furniture, glass, frame.
Class 25: clothes, shoes, sandals, headgear.
Class 30: bread, sugar, cocoa, tea, coffee, rice, noodles, flour.
Class 32: juice, mineral water, bottled water.
Class 35: store, advertising, car or motorcycle showroom.
Class 37: laundry service, car wash, vehicle repair shop.
Class 39: travel services, car rental, tour guide services.
Class 41: education services, training, entertainment services, courses.
Class 42: website design and manufacturing, industrial research and analysis services.
Class 43: restaurants, shops, cafes, hotels, catering services.
Class 44: health services, medical clinics, beauty salons, haircuts, animal care.
Class 45: franchise, legal consulting services.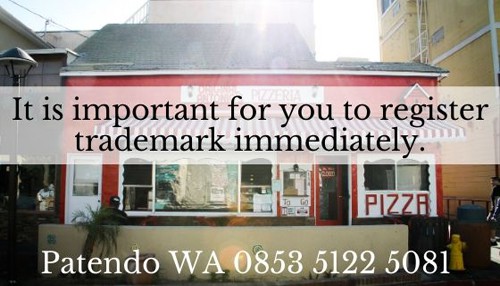 Whatever your business, the brands must be registered and protected, such as brand names of food, clothes, bags, shoes, cosmetics, lipsticks, t-shirts, skincare, watches, clothing, hijab, perfume, drinks, franchise services and so on.
Customers always see the brand before buying goods / services. It is time for you to build a strong brand, so that your business will develop fast. Without a brand it will be difficult to compete with competitors.
Register your brand immediately, before others take it. You can start from zero if the brand is taken by others.
Trademark registration is easy with our help. For further information and consultation, please contact us. We are ready to help you.