Indonesia Trademark Registration Guide 2021 – Patendo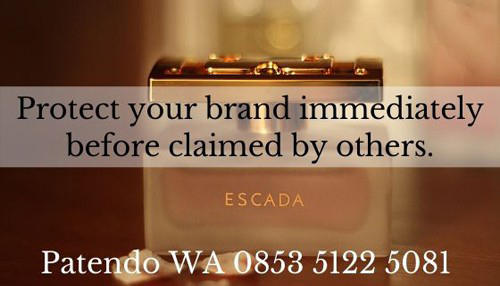 Indonesia Trademark Registration Guide 2021 – Patendo. 10 Steps of Trademark Registration in Indonesia. We are certified consultant of IPR will help you to register and renew your trademark in Indonesia.
You must be curious with trademark Indonesia registration procedure through Patendo. Here are easy ways to get your brand rights.
1. Please email to cs@patendo.com
a. Brand name:
b. Type of goods / services / businesses:
c. Registrant name:
d. Telephone number of registrant:
2. You will get email of our bank account number in 1 to 3 hours in business hours.
Our business hours are Monday-Saturday on 8.00 am to 4.30 pm and closed on Sunday and national holiday.
3. The cost of brand registration including brand checking is only USD 400 per brand per class per logo. After transfer USD 400, please send the transfer proof by email immediately. Brand checking done in 2 business days. The application process for trademark registration will be completed in 7 working days after we have received the signed documents.
For the type of goods / services that are in 2 classes, for example in class 30 and in class 43, the cost of registering a trademark is multiplied by 2. For registration of 1 trademark with 2 different logos, the trademark registration fee is multiplied by 2.
4. Please send the transfer proof of brand registration fee along with the registration requirements: registrant passport/passport of company director and logo of trademark in the form of JPG (minimum 300 kb) by email.
5. Fill the required data we send by email correctly for making documents.
6. Download and print the documents we send based on your data before.
7. Sign those documents and send back to us as the email instruction.
8. Brand registration is done for about 7 days after we received your signed documents.
9. We will send the proof of brand registration application by email and your trademark is able to run without waiting for certificate.
10. Brand certificate will be issued by Directorate General of IPR for about 2,5 years after a thorough examination.
Process of publishing brand certificate cannot be accelerated. It is 100% authority of the Director General of Intellectual Property Right of Indonesia.
Consultant does not have authority to approve or reject the brand registration and also publish brand certificate. As a consultant, our primary duty is only checking and registering your brand to trademark office of Indonesia.
If you have any questions, please email or chat us directly on business days.
Patendo is Intellectual property rights consultant in Indonesia
Email: cs@patendo.com
WA: +62 853 5122 5081
Address: Satrio Tower 16th Floor, Kuningan, Setiabudi, South of Jakarta, Indonesia, 12780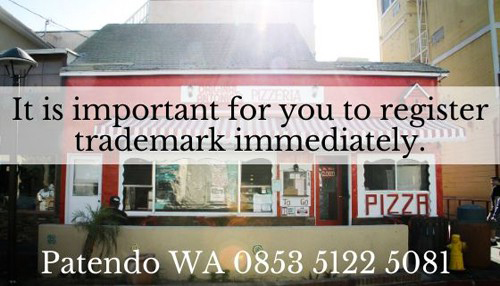 Foreign Trademark from Other Countries is Not Directly Prevail in Indonesia
A company can easily register its Trademark in Indonesia. It is also for foreign Trademarks. Companies will have legal protection and be allowed to sell their products freely in Indonesia if they register their Trademarks.
Unfortunately, not all people know about it. Most people think that manufacturers or sellers can sell all foreign Trademarks in Indonesia. The truth is that an international Trademark is not automatically registered. Foreign producers have to register their Trademark right away if they want to sell it in Indonesia.
The Trademark registration process will be much easier with the help of our intellectual property consultant.
Why Registering a Trademark in Indonesia is Crucial?
Registering a Trademark is crucial because a registered Trademark has legal protection in Indonesia. So, the original or registered Trademark has a higher status if someone duplicates it. The owner of the registered Trademark can even prosecute the one who duplicates legally.
Have you ever seen illegal medicines or illegal food Trademarks? There are so many discussions about it. Illegal products can cause the original or registered products to significantly drop if they don't have the same quality.
The Trademark registration in Indonesia that is using the first-to-file system makes it a bit complicated for foreign Trademarks. One of the most popular Trademark cases in Indonesia is Superman. Many Indonesian comic artists have known foreign superheroes before DC Comics sold its comics in Indonesia.
One of the Indonesian comic artists finally registered Superman in Indonesia without telling the DC. Indeed, people know that Superman is an American comic superhero by DC. Yet, Superman became an Indonesian Trademark because of the first to file system.
It becomes a serious case and causes a debate.
Indeed, Superman's fanatic fans don't like it. Yet, by the rule, there is no lawful act in Indonesia. After a long process, Superman is still circulated in Indonesia, but it is no longer owned by DC.
Fortunately, the registered Superman is only for a food Trademark. There is no additional clause said that the character can't be used in a variety of media and products. As a result, DC can still circulate Superman in other forms, such as film, clothes, backpacks, and many more.
DC finally registered Superman for many things in Indonesia after this big case, Superman is not the only one, but they also registered other popular characters. The case is closed, yet it makes Indonesia's image a bit bad in foreign countries.
Let say in the 80s up to 90s and the early 2000s, Indonesian images were not safe for the abroad media. Illegal and pirated goods are available. For example, you can find pirated films and CD cassettes easily in the market. There were also a lot of pirated video games sold without an agreement from the creators. Indonesian image was bad about intellectual property in other countries.
But the original media are finally circulating with the development of flexible payment methods and citizen's awareness in Indonesia. Game and film trading is one of the simple examples. Nowadays, people tend to choose to subscribe to Netflix or buy online games at Steam. These two platforms help abroad developers to sell their products directly in Indonesia.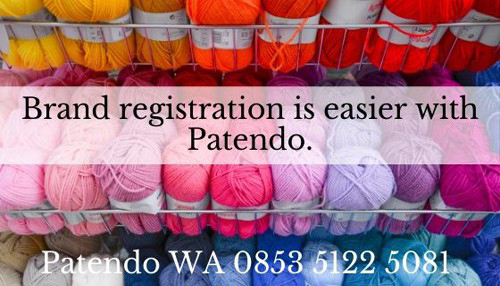 The Benefits of Registering A Trademark in Indonesia Legally
Having a legal Trademark in Indonesia is profitable. Unfortunately, many people seem don't care about it. So many products are illegal or unregistered legally. Managing a Trademark in Indonesia is not as complicated as you can imagine if you let our intellectual property consultant help you. Check the following benefits of registering a Trademark in Indonesia:
Protect Your Products Legally
It is the main benefit of registering a Trademark in Indonesia. The Indonesia intellectual property rules ensure that the products you sell can be imitated by other parties. If there is any, you can litigate them as illegal product sellers and even ask for compensation.
Controlling these illegal product sellers is crucial for companies. Your product image will be stronger in the public if your company can control these sellers 100%. It means there will be no fake products in the name of your Trademark available in the market. So, ensure that you register your Trademark in Indonesia immediately.
Build Trust with Sellers
Buyers believe in your products when you have registered your Trademark in Indonesia legally. People often don't trust unknown and unregistered Trademarks. Buyers are sure and not afraid if your Trademark is legal egalitarianism in Indonesia.
Facilitate the Product Distribution License
A company should have a product distribution license to distribute products with a specific Trademark in Indonesia. The certificate often depends on the product companies want to sell. For example, a food and beverage product should have a BPOM or Badan Pengawas Obat dan Makanan (the National Agency of Drug and Food Control) and the Department of Health Services.
Yet, you need to fill the other requirements to get the license from these two departments. One of the requirements is that the Trademark is available in the intellectual property in Indonesia.
The requirements seem to be too complicated for some companies. Because of that, some local business owners with their specific products are constrained to register their Trademarks. The products don't even achieve a product distribution license or BPOM.
Having a product distribution license is a must if a company wants to develop and survive in Indonesia. It is deeply regrettable if you can't sell high-quality products in Indonesia only because of the product distribution license issue.
Facilitate the International Trading
The Trademark registration process in other countries is much easier if a Trademark has been registered in Indonesia. The process is even easier in the countries which have a bilateral relationship, such as in the ASEAN countries. A company is accessible to apply its Trademark to intellectual property in other ASEAN countries if the Trademark is legal in one of the ASEAN countries.
So, let's say you want to sell a frozen food product, you can try to register the Trademark in Indonesia through our registered HKI consultant. Then, try to sell the product in Malaysia. Indeed, you still have to follow the Trademark registration process there, yet it will be much easier because it has a legal license from Indonesia.
So, as the owner of the frozen food product, you can focus on the other licenses to offer the product in Malaysia.
More License Opportunities
A competency to sell a license is another benefit of having a legal Trademark in Indonesia. It is an effective trick in the culinary industry. A licensed franchise is more popular in Indonesia. Some international franchises, such as Starbucks and Pizza Hut, are easy to sell their products because they are registered in Indonesia.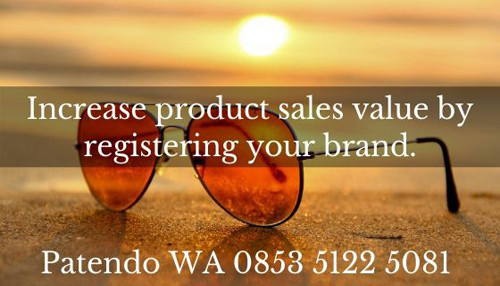 The Process of Registering A Foreign Trademark in Indonesia
Registering a foreign or local Trademark is the same in Indonesia. You can contact our consultant online immediately. Ensure that you fill all the requirements from the HKI consultant to pass the registration process. We will send your data to get the acceptance of the application for the trademark registration date. The requirements are:
– Sign a power of attorney document and an application letter for trademark registration from our intellectual property consultant.
– Pay the trademark registration fee to our Trademark consultant service.
– Prepare the Trademark logo.
– Ensure that you have signed the trademark registration letter. This letter states in the application that the applicant has a right to register their Trademarks and use them based on the applicable rules.
Tips To Register A Foreign Trademark Easier in Indonesia
Now, you know that there are still challenges in registering a Trademark in Indonesia. Yet, our consultant is ready to help to prevent the challenges. Let's discuss tips to register a foreign Trademark in Indonesia below:
Use Our Intellectual Property Consultant Service
Registering a Trademark in Indonesia with our intellectual property consultant service is effective if your Trademark is coming from other countries. This trick is more effective and better compared to doing the process by yourself. Our consultant is not only a good connector but also giving advice and support to do your Trademark registration process well.
Some people underestimate a Trademark registration process if the Trademark is available overseas. It doesn't affect the Trademark registration process in Indonesia. It can be a serious problem if there is a party that registers a similar product to your product first. If it is happening, who else can help you? That's why you have to register your Trademark in Indonesia right away.
Ensure to Consult Your Plan
Ensure that you have evaluated and consulted several times to make sure that the Trademark registration department approves your Trademark. This process is useful to ensure that your Trademark is original. The more original your Trademark, the easier the Trademark to achieve the application and be a registered Trademark in Indonesia.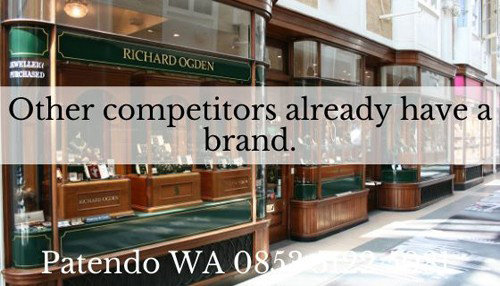 Requirements of trademark registration in Indonesia
Submit registration application in two copies typed in indonesian language using provided form template containing:
1. Full name, nationality, and address of applicant.
2. Full name and address of consultant, if it is applied by consultant.
3. Color of trademark, if the applied trademark using color elements.
4. Country name and request date of trademark registration if using priority right.
Trademark application letter attached by:
1. Copy of identity card, while for foreigner must has an address in Indonesia or consultant in Indonesia.
2. Copy of a legal entity establishment deed legalized by notary public firm when is applied by the name of factory.
3. Copy of collective ownership rule if the application submitted for more than one person (collective trademark or groups).
4. Power of attorney if it is applied by consultant.
5. Payment evidence of application fee.
6. 1 logo
7. Declaration of trademark ownership.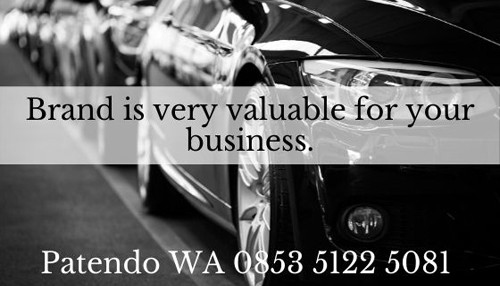 Trademark Registration Fee in Indonesia
As we know, to get a right of a trademark you should register the trademark to the Directorate General of IPR. You may ask our help to register your brands.  Here is the cost of trademark registration.
Brand checking as a device to minimalize the rejection by opposition when you are registering the brand.
By registering through Patendo, you do not need to login to government site and go to the main page to download any forms.
You only need to mention your brand, type of goods or services, your name and contact number. For example you want to register vendors of food, store for retail, medical device, vehicle or even pesticide.
In addition, the cost of registering a trademark including trademark checking is USD 400 per brand per class.
After 2 working weeks you will get a trademark application number and your business are able to run without waiting for certificate containing serial number of registration.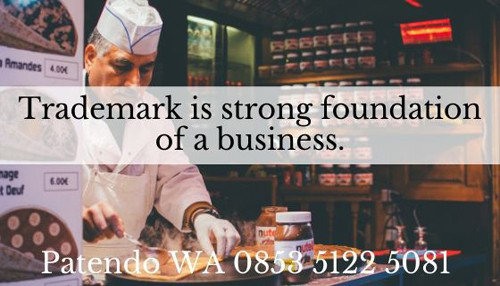 The Importance of Registering Foreign Trademarks in Indonesia
It is without a doubt that the field of business is now better than ever. The ease of expanding business globally with all of the technologies today is a reason for that. It means that nowadays there are brands from one country in the entire world.
It is possible to find a well-known brand from the US in Indonesia, for example. Of course, there are many things to do before a company expands its business to other countries. A fundamental aspect to consider in the first place is trademark registration. It is among the first things to do to run a successful international business.
The thing about trademarks is pretty similar in one country and another. Mostly, a foreign company that has its brands will need to register the company and the brands at first. There is no international fixation on this that allows a company to skip the trademark registration in any country it expands its business.
Therefore, it is pivotal to understand how the system works in the respective country to bring a brand into it. Of course, Indonesia has its strict rule regarding foreign trademark registration. Failure in addressing that matter will result in facing the law.
The Best Protection for the Business
It is without a doubt the fundamental importance of registering a foreign trademark in Indonesia. Following the rules and laws of the locals is the best way to run a business. A successful attempt to officially list a brand or business in Indonesia will guarantee the best protection.
It eliminates the risks of brand infringement by anyone in the country and even some other foreigners. Unfortunately, it is a terrible thing to talk about in terms of piracy in Indonesia. Therefore, to avoid that, trademark registration is a must.
Any attempt to copy a registered foreign brand of a product will come in a great consequence in Indonesia. More importantly, when the company decides to perform legal action, it can be worse.
Without the registration, it is impossible to get the best protection for the business in Indonesia. Even the local companies need to do this to get the same protection in the harsh business environment.
The Better Trust of the Potential Customers
Another reason that it is crucial to register foreign trademarks in Indonesia is the trust level of Indonesians. A registered brand from other countries will be able to set up an official office in Indonesia.
It includes the possibility for an authorized service center for the products. Indonesians find it much more comfortable to buy products that the official store and service centers are available in the country.
For example, Sony PlayStation is better known than Microsoft Xbox in Indonesia because Sony has its trademark registration in Indonesia. It leads to more people buying the items from Sony. When something happens with the products, it is easy to claim the official warranty service from Sony Indonesia.
The Chance to Grow a Better Business
It is without a doubt that a registered product will have a better chance to grow in Indonesia. An official branch of a company from foreign countries will have the opportunity to employ the locals easily. It means that there is a chance to enlarge the business even further with more locals working at the company.
The knowledge of the locals is an undeniable advantage over foreign brands. A great brand from the US will not reach its potential customers without knowledge about Indonesians.
Locals who are interested in the job in the company will look into the trademark registration as well. If it is legit, they will find it more appealing than other available works to apply. In the end, a trademark registration offers a lot of good stuff for any foreign company.
More importantly, it is easy to attract local businesses to work together for the company. It is easy to realize that there are many official retailers of international products in Indonesia. This kind of retailer is not the official store of the product. It is a local business that is in a professional business relationship with the international brand.
It acts as a retailer for the products so that more potential customers can see the items. There is a better chance to secure cooperation like that when the trademark is registered in Indonesia officially.
Register your brand immediately, before others take it. You can start from zero if the brand is taken by others.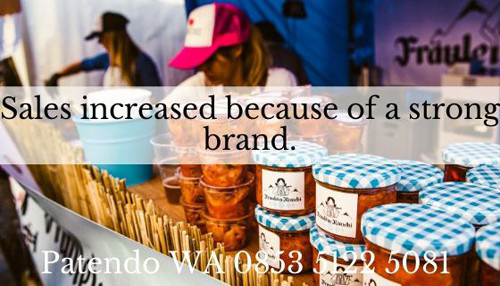 Trademark registration in Indonesia is easy with our help. For further information and consultation, please contact us. We are ready to help you.